A Man Called Ove (MP3 CD)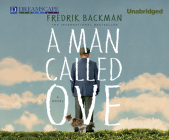 $14.99
Special Order - Subject to Availability
Staff Reviews
---
Prepare to be charmed by this quirky, heartwarming story. Ove is a man with a lot of rules. There is a right way and a wrong way to do things, Ove prefers doing things right and has no patience for those too clueless to know the difference. He prizes things that are useful, disdains things that are not. Ove feels he is no longer useful, it is not how he wants to be, but there it is. His wife died and he was forced into retirement, what is left for him? Now all Ove wants is to get his affairs in order and kill himself. Is it too much to ask to be left in peace to carry out this plan? Apparently it is. First a new neighbor with no idea how to properly drive a trailer runs over Ove's mailbox, then a kid leaves a broken bicycle in the common area, it is just one thing after another keeping him from his objective. Soon, much against his wishes, Ove is involved with a scruffy homeless cat, his new neighbor's many crises, and all sorts of the messy, emotional, parts of life Ove would prefer to avoid. Ove is a curmudgeon, quick to judge and slow to tolerate, yet there is humanity and goodness in the man the reader will discover. A charming story on the unexpected value of a life.
— Deon Stonehouse
August 2014 Indie Next List
---
"A Man Called Ove by Swedish blogger and columnist Backman is one of those books you read and then want everyone else to read, too. It is also one of those books where you don't dare go into detail about the main character, the setting, or the plot because that would ruin the experience for others. Suffice it to say that the man whose name is Ove is a curmudgeon. He's grumpy. He's cantankerous. And he is a delight! Long may he harrumph!"
— Rene Kirkpatrick, Eagle Harbor Book Company, Bainbridge Island, WA
Description
---
Meet Ove. He's a curmudgeon - the kind of man who points at people he dislikes as if they were burglars caught outside his bedroom window. He has staunch principles, strict routines, and a short fuse. People call him 'the bitter neighbor from hell.' But behind the cranky exterior there is a story and a sadness. So when one November morning a chatty young couple with two chatty young daughters move in next door and accidentally flatten Ove's mailbox, it is the lead-in to a comical and heartwarming tale of unkempt cats, unexpected friendship, and the ancient art of backing up a U-Haul. All of which will change one cranky old man and a local residents' association to their very foundations.