The Scientology Murders (Dead Detective Mysteries #2) (Compact Disc)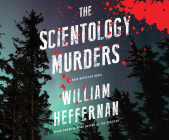 $59.99
Usually Ships in 1-5 Days
Staff Reviews
---
If you have missed the Travis McGee series by John D. MacDonald set in Florida, be of good cheer. William Heffernan's Dead Detective series has a lot going for it and reminds me a bit of Travis McGee. Harry Santos Doyle is a homicide cop with the Sheriff's office, his partner is Vicky Stanopolis; the two make a good pair.
Harry is called "the dead detective" partly from an uncanny ability; the dead will speak to him at crime scenes, a huge help in finding a suspect. The other part of his moniker is because his mother tried to kill him when he was a lad of ten. By the time help arrived, his heart had stopped but they were able to get it restarted and bring him back. His six year old brother wasn't so fortunate. Jocko Doyle, a Clearwater cop, and his wife Maria adopted Harry, giving him loving parents and a true understanding of home. His birth mother is a total wingnut, but Jocko and Maria did right by Harry.
The story starts off with a bang and keeps going at a fast pace. Jocko was retired so he shouldn't have been the target for a gunman, nonetheless he is shot and Harry receives a call letting him know Jocko is in surgery. Jocko was doing a favor for a fellow retired cop, trying to find the man's daughter who had joined the Scientologists and cut off all familial contact, he was on a dock searching for her when the shooting occurred. Clearwater Sergeant Max Abrams knew Harry's dad on the force and is in charge of the case, he is more than happy to have the son help in his investigation as long as they keep his involvement from their bosses. The Scientologists are a formidable group in Clearwater Florida, with an office that handles members who are not abiding by all the rules. One of the enforcers has gone off script and is dishing out lethal punishment. The department's head guy sees the cops as more of a problem than his psycho henchman failing to stay within his instructions and laying waste to the population. He is not about to hand over the guilty party and the Scientologists are cloaked in secrecy.
Harry, Vicky, and Max make a great threesome; I hope we read about all three of them again. Their quips and obvious high regard for each other give the series humor and heart.
— Deon Stonehouse
Description
---
Harry Doyle, known to his peers as the Dead Detective, finds himself faced with what many consider the most powerful and secretive cult in the country-Scientology. Clearwater, Florida, the spiritual center of Scientology, is run by a fanatical group of true believers who insist that members remain pure and true to their faith. One senior leader has a young man in his employ, a twisted soul who will stop at nothing to make sure the rules are followed. But Harry Doyle, his partner Vicky Stanopolis, and Clearwater Sergeant Max Abrams are in hot pursuit, forcing the killer to run for cover. In a shocking denouement where everyone's life hangs in the balance, Harry and Vicky come face-to-face with death in a form they never expected.