The Dry (Compact Disc)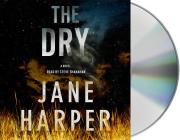 $44.99
Usually Ships in 1-5 Days
Staff Reviews
---
Twenty years ago Federal Agent Aaron Falk, then in his teens, left his childhood home in the farming community of Kiiewarra under a cloud of suspicion. The only thing that saved him from a murder charge was the alibi provided by his best friend Luke. A teenage girl was dead, Aaron was prime suspect. Falk lives in Melbourne and tracks criminals in the finance sector, a job he does well. He enjoys the anonymity of the city, yet he left some part of himself behind with all the unanswered questions. Luke saved him all those years ago, now he is going back to attend Luke's funeral. Luke murdered his wife and son, and then took his own life, sparing only his baby daughter. But Luke's parents want to be sure; they want Aaron to repay the debt to Luke from years ago by checking to ascertain if things might have happened differently than the official version or learn why their son committed this horrible crime. The local detective, Sergeant Greg Raco, also has questions with the official narrative, although it does seem rather cut and dried, all the evidence pointing to Luke. As Aaron delves into the secrets hidden in the drought suffering community, tempers flare. This gritty mystery is well written with clever plot twists and strong characters.
— Deon Stonehouse
Summer 2018 Reading Group Indie Next List
---
"A family of three is murdered, supposedly by the father, who shoots himself afterward. No one is overly surprised since farmers are barely scraping by due to a very long dry spell. Into this situation walks a cop who left the town 20 years earlier while under suspicion for another death. Stakes get higher, and you can taste the dry wind."
— Olga Onal, Bookmiser, Roswell, GA
Description
---
*INSTANT NEW YORK TIMES BESTSELLER*

*Winner of the CWA's Gold Dagger Award*
"A breathless page-turner, driven by the many revelations Ms. Harper dreams up...You'll love her] sleight of hand...A secret on every page." --The New York Times

"One of the most stunning debuts I've ever read... Every word is near perfect." --David Baldacci

A small town hides big secrets in The Dry, an atmospheric debut mystery by award-winning author Jane Harper.
After getting a note demanding his presence, Federal Agent Aaron Falk arrives in his hometown for the first time in decades to attend the funeral of his best friend, Luke. Twenty years ago when Falk was accused of murder, Luke was his alibi. Falk and his father fled under a cloud of suspicion, saved from prosecution only because of Luke's steadfast claim that the boys had been together at the time of the crime. But now more than one person knows they didn't tell the truth back then, and Luke is dead.
Amid the worst drought in a century, Falk and the local detective question what really happened to Luke. As Falk reluctantly investigates to see if there's more to Luke's death than there seems to be, long-buried mysteries resurface, as do the lies that have haunted them. And Falk will find that small towns have always hidden big secrets.
About the Author
---
Jane Harper has worked as a print journalist for 13 years both in Australia and the UK. She is originally from the UK and moved to Australia in 2008, where she lives in Melbourne and writes for the Herald Sun. The Dry, her debut novel, won the 2015 Victorian Premier Literary Award for an unpublished manuscript.