The Resurrection of Joan Ashby (Compact Disc)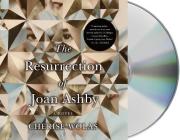 Staff Reviews
---
Joan Ashby understood from an early age what was important; her writing. She did not want home and children, she chose the written word. Her talent was recognized instantly in bestselling, award winning books. Life was turning out just the way she wanted when she started dating Martin Manning. She was living in New York, the darling of the literary crowd, writing serious work and being acclaimed as a major talent with a brilliant career ahead. Upfront and honest from the start, she let Martin know she had no interest in children. Martin, an eye surgeon driven by his career, promised that was just fine with him. They married and very shortly thereafter Joan was shocked to find herself pregnant. Swayed by Martin's evident joy, despite his earlier vow that not having a child was fine with him, Joan agrees to have the baby.
Soon family life takes over her writing, she puts it away, another child follows, and Joan concentrates on being a good mother. Decades pass, Joan secretly begins writing again, before she can reclaim her identity as a serious author, she suffers a devastating betrayal that will send her on a journey of self-realization. Joan is a great character, she so clearly knows the life she wants to live, yet abandons that path through caring for another. Reclaiming her identity, sense of self, is both painful and necessary.
This masterfully written novel explores what it means to be a woman, what it means to be serious about a career, and what it means to lose yourself through the best of intentions. The story is also rich in intimate betrayal, forgiveness and self-redemption. There are so many important questions raised by this brilliant novel, it is a perfect book club selection. An intelligent story about a strong woman that I enjoyed immensely.
— Deon Stonehouse
September 2017 Indie Next List
---
"I've always admired people who knew what they wanted to do from an early age, whether that was to be a doctor, a marine biologist, or a writer. Enter Joan Ashby, a young girl determined never to marry and certainly never to have children; then she does both, and that is when her tale truly begins. Not only are we privy to her life's story, we get to read some of her short stories and parts of her developing novels - the stories within the story, if you will. The only thing any of us know for sure, except for death and taxes, is that the hoped-for path is never straight and never predictable. I flat-out loved this book!"
— Anne Holman, The King's English, Salt Lake City, UT
Description
---
"That I got so worked up about a person who doesn't exist is a testament to Cherise Wolas's success in creating a complex and distinct fictional character." -- The New York Times Book Review

I viewed the consumptive nature of love as a threat to serious women. But the wonderful man I just married believes as I do--work is paramount, absolutely no children--and now love seems to me quite marvelous.
These words are spoken to a rapturous audience by Joan Ashby, a brilliant and intense literary sensation acclaimed for her explosively dark and singular stories.
When Joan finds herself unexpectedly pregnant, she is stunned by Martin's delight, his instant betrayal of their pact. She makes a fateful, selfless decision then, to embrace her unintentional family.
Challenged by raising two precocious sons, it is decades before she finally completes her masterpiece novel. Poised to reclaim the spotlight, to resume the intended life she gave up for love, a betrayal of Shakespearean proportion forces her to question every choice she has made.
Epic, propulsive, incredibly ambitious, and dazzlingly worded, The Resurrection of Joan Ashby is a story about sacrifice and motherhood, the burdens of expectation and genius. Cherise Wolas's gorgeous debut introduces an indelible heroine candid about her struggles and unapologetic in her ambition
About the Author
---
Martha Brockenbrough draws on her diverse experience in journalism, research, nonfiction, and literary teen fiction to bring Alexander Hamilton to life. A powerful storyteller and narrative voice, Brockenbrough is the author of the critically acclaimed YA novels The Game of Love and Death and Devine Intervention. She enjoys reading Hamilton's original correspondence, playing board games, and spending time with her family. She lives in Seattle, Washington. marthabrockenbrough.com